Introduction
You might have noticed the release of Kontour as one of the new instruments included in Native Instruments' Komplete 10 bundle. Kontour is the result of the first collaboration between Native Instruments and Nonlinear Labs. (Full disclosure: I am still a shareholder at NI.) Kontour's synthesis engine was developed by Nonlinear Labs. It is based on Phase 22, a synthesizer I have been working on for several years. Kontour is its adaptation as a highly refined software instrument.
Kontour's concept consists of the following characteristics:
an expressive, musical, and playable instrument
a responsive sound engine with wide-ranging dynamics
simple, puristic components combined with flexible signal routing to form complex and organic sounds
a strong and unique character, not emulating existing instruments
easy sound modification via macro controls
user-recordable motions for the macro controls
Similarities and Differences
Kontour can be considered a sort of "preview" to the first synthesis engine of our hardware synthesizer (working name "Emphase"). The audio processing structure of Emphase will be similar, but not identical (and therefore not preset-compatible) to that of Kontour.
So the question arises: just what are these differences? First of all, we are creating a synthesizer. As we have the performing musician in mind, Emphase will be totally dedicated to human real-time control. Automatic control sources like Kontour's motion recorders are replaced by the live input from the musician.
We have very high aims in terms of expressiveness and therefore we use our high-resolution TCD protocol. TCD gives us complete control over how the voices are assigned, how they are influenced by the pitch bender, ribbons, and pedals, as well as what is going on inside of each voice. In addition, morphing will play an important role for finding and modifying sounds.
You see the different intentions: Kontour integrates perfectly with the environment of software-based music production, while Emphase is optimized as a stand-alone hardware instrument.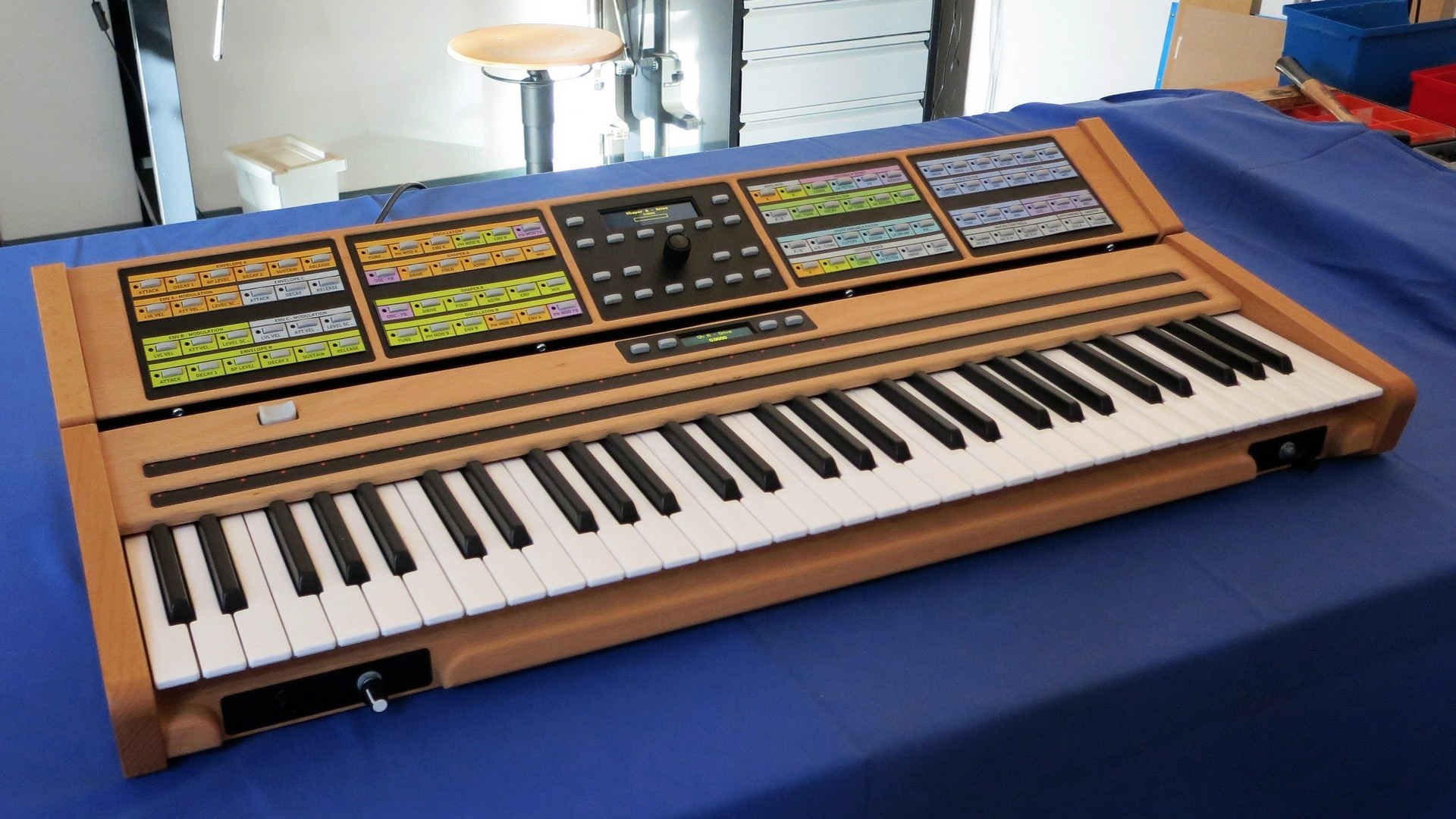 Hardware Prototype (Click to enlarge)
In this context we are taking a dual approach to the user interface: First of all, our hardware comes with a large number of buttons and LEDs, two ribbons, and two displays, providing a haptic surface allowing quick access to all of the synthesizer parameters. Secondly, any browser-capable mobile device or computer can be WiFi-linked to the synthesizer to produce an intuitive "move and zoom" access to the parameters and presets, comparable to the use of digital maps. This is realized by using JavaScript for drawing all control elements in real-time to create a highly dynamic view with a level of detail that depends on the zoom scale. We are preparing a video to demonstrate some details of this new synthesizer interface concept.

A part of the graphical user interface
Evolution
Currently, we are working on ideas that have evolved from the development of Kontour. For example:
a modulation system where more than 80 parameters can be controlled by each of the four macro controls
flexible mapping of the eight physical modulation sources (such as pitch bend, aftertouch, the pedals, etc.) to the four macro controls
stereo pan for the oscillators and filters in the output mixer, stereo pan of voices by key tracking, and stereo spreading of unison voices
manual and envelope control over the phase offsets of the oscillators
the Gap Filter now also works as a bandpass filter and offers adjustable resonance
more control over the stereo processing of Flanger and Echo
the feedback signal got its own sine shaper and envelope controls
Envelope C gets more variability and can have a bipolar shape
the delay of the Comb Filter can be (phase-)modulated by the oscillators
As you see, we are constantly learning, and the work on Kontour has given important impulses to the evolution of our synth engine. Thanks to the colleagues at NI, the sound designers and the first users of Kontour for your extremely valuable feedback!
We'll continue to give updates on our website as we move ahead with the synth engine, the user interfaces, and the overall synth construction.