Until now, we have written quite a bit about the inside of our synth, including things like choice of synthesis engine, CPU architecture, operating systems, the TCD protocol, and so on.
But as our development moves forward, it's probably a good time to talk about our work on the user interface — what the musician actually sees and touches. This includes the materials and workmanship of the physical instrument itself, as well as critical design decisions influencing how people will create sounds and music with it.
Our guiding principles have always focused on an instrument's musicality: expressivity, playability, and sensitivity. Furthermore, we want our synthesizer to have extensive sound design capabilities. But we are also very concerned with physical aspects of the product. We prefer high-quality materials in a robust construction which is made to last. In addition, our instruments will be designed to be repair-friendly, upgradable, and recyclable.
Consequently, we are using wood - a very traditional material for musical instruments - as much as possible. All wooden parts are CNC milled in Northern Italy, where two of our manufacturing partners are located. From there we also get the steel sheet metal parts, as well as some aluminum blocks inside the instrument.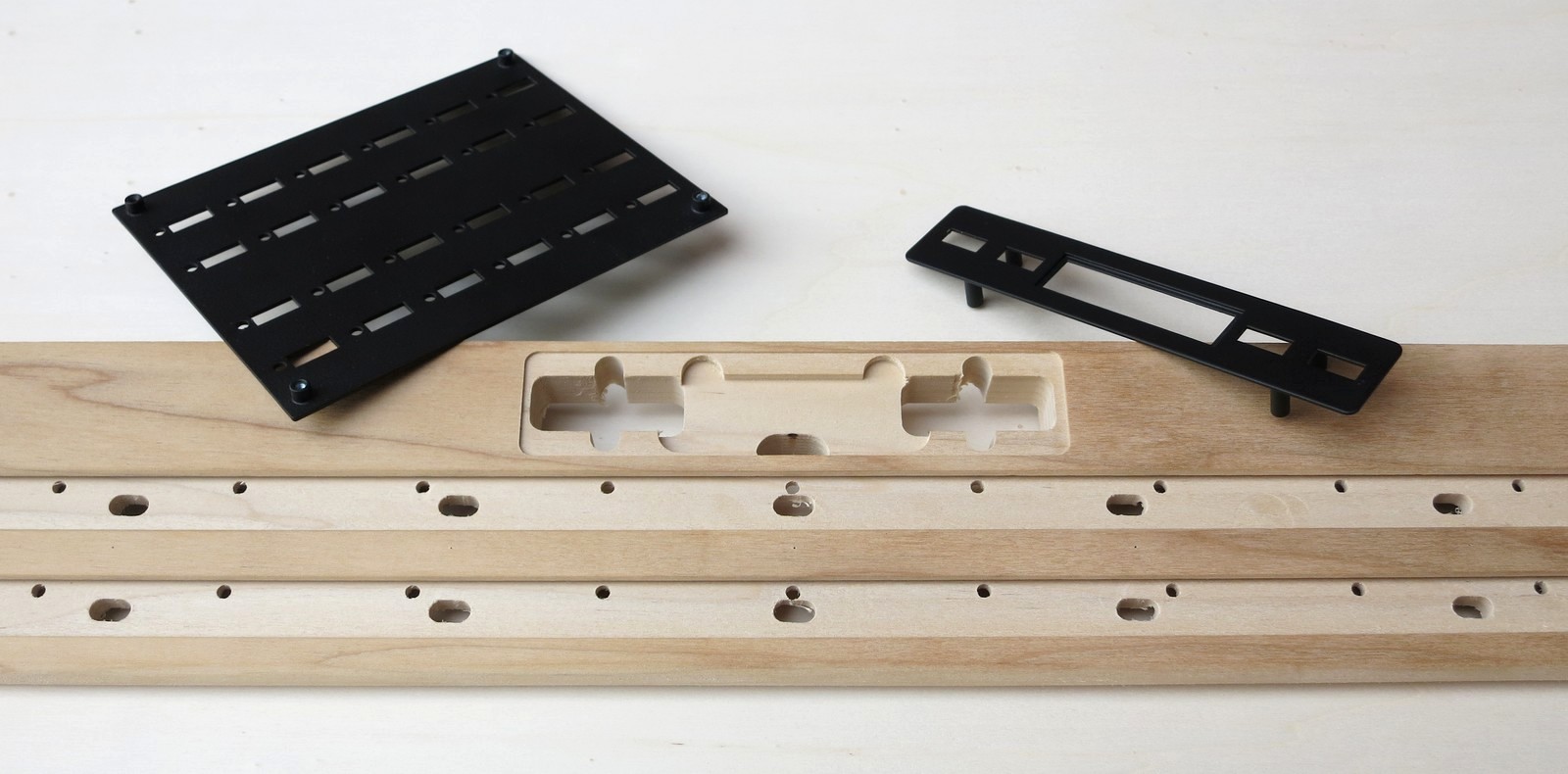 Two Parts
For a number of months, we have been working on the housing of the synthesizer. Our point of departure is to look at two main use cases for synthesizers: playing the instrument and developing sounds ("performing" and "creating"). The performing musician doesn't always need to be confronted with all of the sound editing possibilities available, while the sound designer needs a detailed access to all parameters. One person can - and sometimes does - fill both roles, but rarely at the same time.
This is the reason why we've settled on a two-part design consisting of a "performance cabinet" and a "creation cabinet". We have been working on both parts with Simone Fabbri (more about him here), our mechanical engineer based in Northern Italy. Both cabinets are compact and combine sturdy construction with elegant design.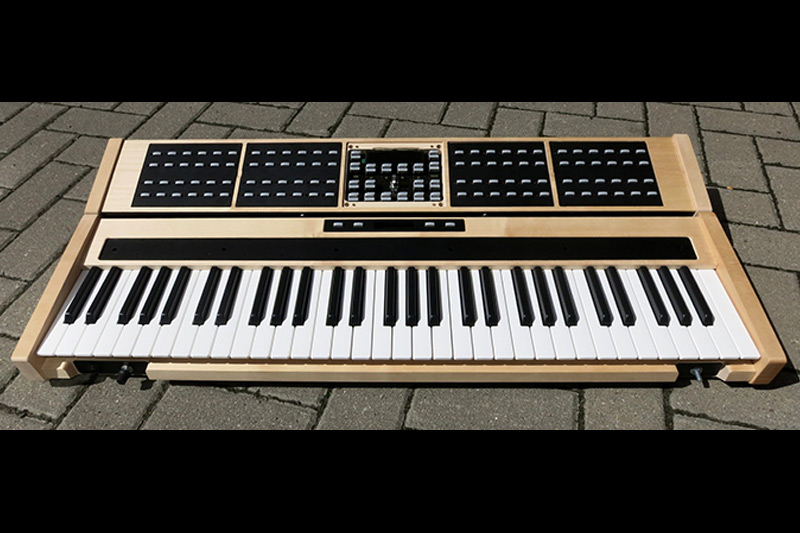 The Performance Cabinet
The main component of the performance cabinet is a semi-weighted 61-key keybed made by Fatar (the world's leading manufacturer of quality keybeds). We have chosen a version with long-arm keys providing the best possible playing feeling.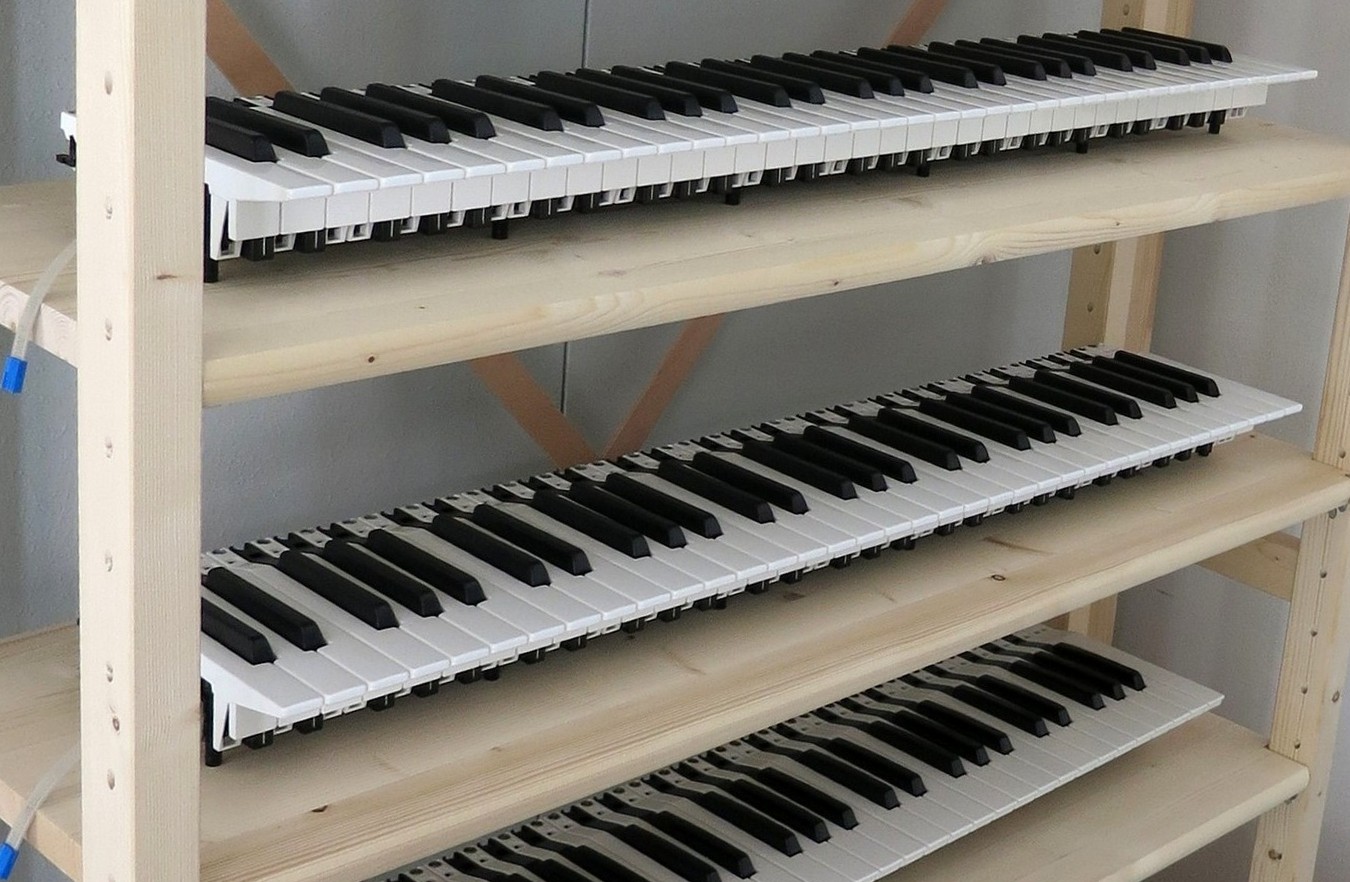 The cabinet also contains two ribbon controllers, a pitchbend lever (not pictured), connections for pedals, audio outputs, volume controls, and essential controls for changing presets, assigning functions to the ribbon controllers and pedals, and so on.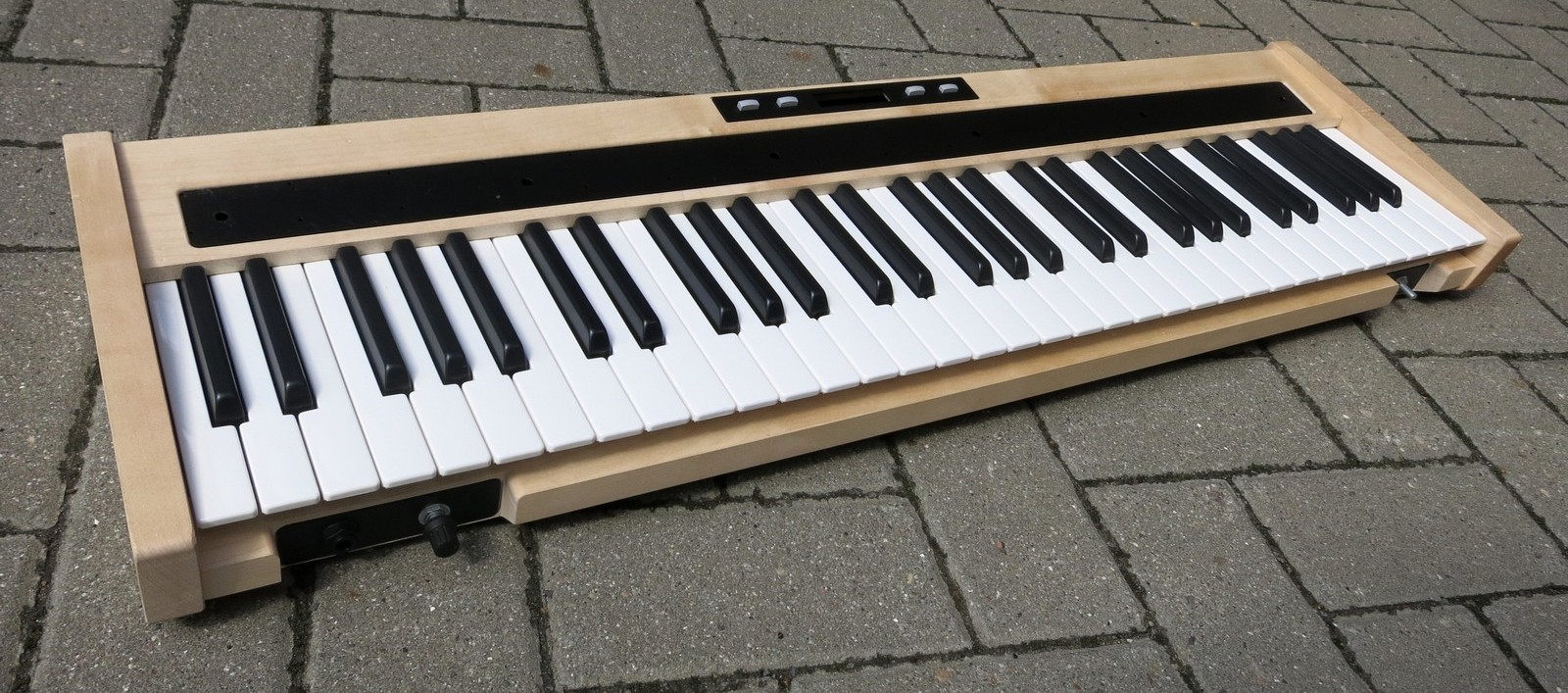 The performance cabinet can be played with or without the detachable creation cabinet. This is useful for traveling musicians, for example, who don't want or need the extra volume or weight of the creation unit for their performances.
The Creation Cabinet
The creation cabinet is the sound explorer's playground - a workbench for discovering and creating new sounds. It has four selection panels (each with 24 buttons and LEDs) and an edit panel (with 18 function buttons, a rotary encoder and a high-contrast 256x64 OLED display).

Through the use of interchangeable magnetic foil overlays, the selection panels can be adapted to any number of different use cases, synth engines, and software updates. The entire panel construction is modular, so that the unit can be modified or upgraded without needing a new chassis - a factor that also contributes to the instrument's flexibility and longevity.
Outside the Box: A Graphical User Interface
In addition to editing with our hardware user interface, presets and parameters can be viewed and edited on any Wi-Fi connected device that has a web browser. This includes nearly all smart phones, tablets, and notebook computers.
This means we can take advantage of the visualization and navigation features of screen-based user interfaces. Our GUI concept is based on the idea of a map that can be zoomed and scrolled with touch gestures so that the user can decide the amount of detail to be visible at any given time.
The user interface will also support a unique unlimited undo system for all actions relating to sound editing. In combination with an event recording for the musical performance we will be able to provide a "time machine" for all interactions with the instrument. With synthesizers you often get surprising sound results. Our undo/recording system will make such moments reproducable in every detail.
Next Steps
At the moment we are writing a lot of software for the current prototype. At the same time we are drawing from our experiences as we create the next iteration in hardware design - new PCBs, modified housing parts, etc. We plan on providing some pre-series models of this next version for early test users, probably in the first half of this year.
And here one more photo of the first performance cabinet - presented by our mechanical engineer Simone: